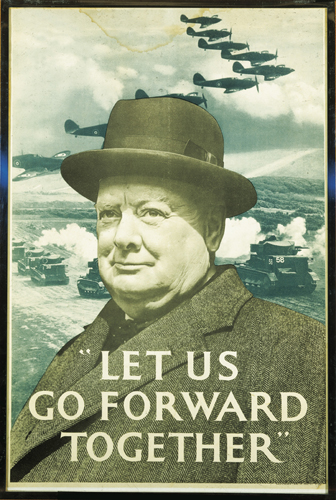 World War II propaganda poster featuring Winston Churchill ©De Agostini/The British Library Board Images Online
This week the 50th anniversary of the death of Winston Churchill is being commemorated.  There has been a flood of articles analysing his role in British history.  Untold Lives would like to highlight three little-known files in the India Office Records which show Mr Churchill's generosity to men who had been his servants when he was a young officer in the British Army.
Churchill sailed for India with his regiment, the Queen's Own Hussars, in October 1896.  He was stationed initially at Bangalore. In July 1943 the India Office set its administrative wheels in motion on behalf of Prime Minster Churchill who wished to send a personal gift of 100 rupees to his former servant Mr S Joshua. Mr Joshua was an inmate of the Friend-in-Need Society's home in Bangalore.  Officials in London and India liaised to transfer the money through the Resident in Mysore to Mr Joshua after he had shown proof of his identity.  Churchill conveyed his thanks from Quebec where he was attending an Allied conference. He sent a cheque for £9 6s 9d made out to 'Accountant-General India Office' to cover to cost of the gift and a telegram to India.
Mr P Muniswamy wrote a letter to Churchill from Bangalore in December 1946 and again in May 1947 after he heard about the 100 rupees sent to Mr Joshua.  He claimed to be an 'old old Servant' who had worked for Churchill when he was stationed in India.  Churchill thought that he did remember   a servant of that name some 50 years earlier and asked the Private Secretary to…